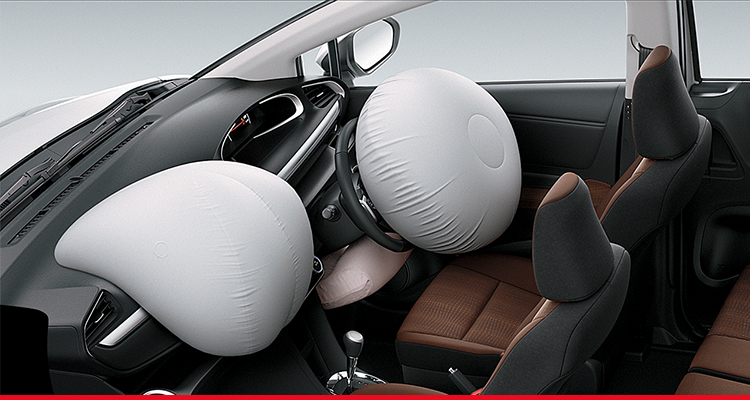 Airbag is a kind of essential safety equipment used to prevent drivers and passengers from a sudden jerk collision which could result in a harmful serious injury. In today's era cars, an airbag is considered a compulsory installed life-saving vehicle safety device attached to an occupant restraint system and designed with an inflated balloon which suddenly blows up during a time of the collision and then collapses down. It simply comprises of air bag module, nylon cushion fabric bag, inflation module, steering wheel connection coil, impact sensor, wiring, and connectors.
The modern smart cars are installed with crash sensors to suddenly reduce speed acceleration and to provide occupants a soft cushion touch with tight seat belt restraint to eliminate a risk of being hurt by steering driver. It protects from extreme collision harm with a jerk attack to a steering wheel, instrument panel dashboard, and a front windscreen.
Function of Airbag
The function of an airbag is completely based on the scientific theory of the law of inertia to help reduce a force on the body by increasing a time interval and by spreading a force over a large area of the body. The airbag inflation system works with an ultra sonic crash sensor which senses a head on collision risk and quickly sends signals to inflator module to expand the nitrogen gas filled air bag balloon in front of a driver to save him from a serious fatal condition. As the air bag inflates, the seat belt pretension also tightly fastens the seatbelt which restrains a driving person and seated passengers from falling down with having a critical nose, neck, and head injuries. The air bag blowing up time is as fast as 0.3 seconds for rapid harm protection.
Following are different kinds of airbags designed for safety and comfort for both driver and passenger alike:
SRS Frontal Airbag
Supplemental Restraint System (SRS) Frontal Airbag is a steering driver air bag system which is perfectly designed to provide jerk prevention to the driving person with a supplement aid seatbelt to tightly hold back a person to fall down directly with severe facial damage. It provides all sides of front right and left collision safety.
Side Airbag
Side Airbag as it name describes is a side impact airbag which prevents passengers from side way collision and is further categorized into side torso and side curtain airbags designed to reduce the risk of pelvic and lower abdomen rib cage injury. Likewise, the side curtain airbag has been purposefully designed for head protection safety in side impact collisions. Side Airbag can help prevent brain injury to a greater extent and comes in door mounted, curtain and tubular.
Center Airbag
Center Airbag reduces the chances of severe rear passenger injuries in a side collision. Toyota Crown Majesta was the first vehicle to present with a rear seat center airbag.
Knee Airbag
The SRS Driver Side Knee Airbag launched with Toyota Caldina in the year 2002 to help protect from leg injury and provide safety of knee wounds. It has now become the most commonly fitted airbag feature in smart cars today.
Rear Window Curtain Shield Airbag
Rear Curtain Airbag is designed to provide a shield from rear end impact collision and helps minimizes the chances of rear side head injury. It simply saves back seated passenger get hurt from a rear side collision.
Pedestrian Airbag
It is an entirely new idea of saving on-road walking pedestrians to be protected from sudden accident injury as the pedestrian airbag has come to their rescue. It provides complete safety and prevention of on-foot people to come before your speedy car.